Back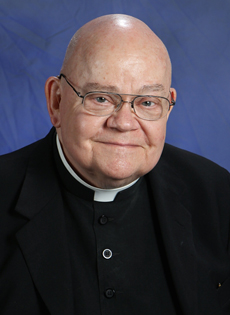 Born Aug. 9, 1941 in Jamaica Plain, N.Y., he moved to Miami in 1949 and grew up in Holy Family Parish, North Miami. He attended Archbishop Curley High School and entered the seminary during his senior year. Ordained in 1968, he served as the founding director of the archdiocesan Office of Worship from 1978 to 1984. He has spent 24 of his 35 years as a priest at St. Louis Parish in Pinecrest, including the last 21 years as pastor. "I think I'm this close to marrying one of the kids I baptized here." He also serves as dean of the South Dade Deanery.
When he knew he wanted to be a priest:
Probably around the fifth grade: "You'd be serving at Mass and there was just something very special about all that." He would also lock up the church and set out the vestments for the next morning. "The priests that I knew trusted me. ...I learned how to drive in the church truck when I was 12 years old because Msgr. (Rowan) Rastatter let me drive the truck around the parking lot. ...He was my hero."
What he would be doing if he had not become a priest:
"I haven't the vaguest idea. There isn't anything else that I ever think about being. ... I could just as easily be bagging groceries at Publix."
Why he never wanted to be a missionary:
"I wanted to be a priest and Holy Family would do just fine. To this day I get nervous going to Broward County."
What he does on his days off:
"Take a deep breath. I'll go and spend the day with a friend. Go to a movie. Get off by myself and read.
Hobbies:
"I've played at tennis. To say that I was a tennis player would dishonour the sport."
"I learned long ago that I'm not the Messiah. We only had one of those."
Best memory:
"The morning we went up to celebrate Mass with the Holy Father." He was one of the 38 priests studying at the North American College in Rome who gathered in the pope's private chapel on Nov. 30, 1989, at 6:30a.m. When it came time for the homily, the pope simply said, "'Today we let Jesus speak.' And he sat down. We all reflected on the Gospel for seven minutes."
Greatest frustration:
"Not being able to do all the things people would like me to do."
Greatest joy:
"The people who are here with me at St. Louis. I pray to God I never abuse that trust."
Most difficult aspect of being a priest:
"When things happen that you can't have any control over and you don't have all the glib answers. Or you can't wave the wand and make it all better. I learned long ago that I'm not the Messiah. We only had one of those."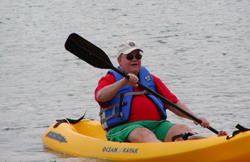 Father Fetscher kayaking on the Great Lakes during a recent vacation.
His description of the ideal priest:
"To be all things to all people. ... Jesus certainly poured himself out for people. That's the standard by which we measure ourselves."
Favourite type of music:
Peggy Lee, Louis Armstrong, Leonard Bernstein
What he collects:
"Everything" but especially books: "I had this idea that if I owned the book and it sat in the shelf, somehow, by sheer osmosis, whatever was in it would stay in my head."
On his personality:
"You're looking at a guy who voted for Barry Goldwater and George McGovern. Think about that."
Favourite priestly assignment:
"The one I'm in."
Person he most admires:
Auxiliary Bishop Agustin Román: "I'm continually amazed at his capacity for charity, gentleness and kindness. If I could have a tenth of it, I would be a happy man."