Christian Life Program ( Programa de Vida Cristiana )
Sunday, Oct 22, 2017 from 8:00 AM to 5:00 PM - Bilingual (English and Spanish)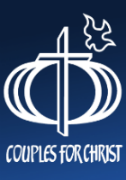 What is the Christian Life Program (CLP)?
The CLP is an integrated course intended to lead participants into a renewed understanding of God's call to them as Christian couples or individuals.  It runs for a total of 12 separate sessions.  Most sessions consist of three basic ingredients: a teaching, a group discussion, and a time for fellowship.
FAMILIES IN THE HOLY SPIRIT RENEWING THE FACE OF THE EARTH
Moved by the Holy Spirit, one with the Catholic Church, blessed to witness to Christ's love and service,

Couples for Christ

is a united global community of family evangelizer that sets the world on fire with the fullness of God's transforming love.
Show more >>
What are the goals of the CLP?
For the individual, it brings a person into a stronger relationship with God by discovering and living more fully the power and gifts he or she received through the Holy Spirit.

For the family, it brings married couples to a renewed commitment to Christian family Life and it starts to build up a community of committed Christian families.

For the Church, it brings people within a particular parish to a fuller experience of life in the Spirit.  Consequently, it strengthens and revitalizes community life in the parish.
 Couples for Christ (CFC) is a Catholic movement intended for the renewal and strengthening of Christian family life.
CFC couples have committed themselves to the Lord and to one another so that they may grow in maturity as men and women of God and fulfill their primary vocation of raising families grounded in Christian values, in the service and love of God. 
RECOGNITION
In 2000, CFC was recognized by the Holy See (Vatican) as a private international association of the lay faithful of pontifical right. 
PONTIFICAL COUNCIL FOR THE LAITY: Directory of Associations
www.laici.va/content/laici/en/sezioni/associazioni/repertorio/sposi-per-cristo.html
Location
Good Shepherd Church
Parish Hall 14187 SW 72nd Street, Miami, FL 33183 (Map)